Spicing up your life
inspiral escapes
in goa
24 February-1 March 2020
Have you ever wanted to escape the winter blues and enjoy the exotic India?
If yes, this is the holiday for you; whether you are an enthusiastic student or an experienced yoga-pilates or dance teacher looking for more inspiration, this holiday is an intensive seven days with me, to dive into your own practice and enhance your understanding of intelligent, functional movements.
Immerse in the exotic India ,a popular destination, due to the history and practice of yoga, the culture and the incredible journeys will start.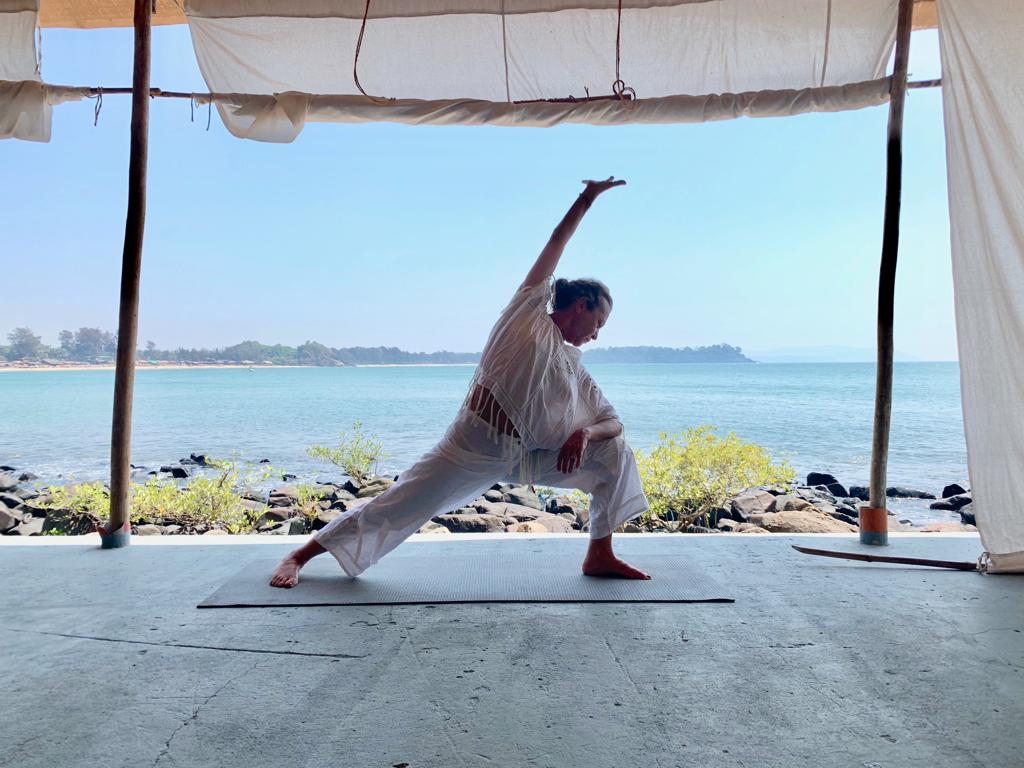 To book or find out more about our InSpiral Escape in Goa
Spicing up your Life, brings a flowing blend of yoga, pilates, Garuda and dance into the idyllic Agonda Beach,voted by TripAdvisor, for the second year on the raw as the most beautiful beach in India. Immerse yourself in a paradisiacal experience where blissful nature meets Yoga and Pilates & Sacred Dance practice.
The Place
Agonda is a three-kilometre long, beautiful cove of white sand, secluded in the palms. Also known as the silent beach, Agonda is the undiscovered paradise of Goa. The ideal place to laze and relax as not many tourists visit this area. The nature is at its best here with the beautiful sea, a background of palms and YOU in the midst of it. Agonda village is 6 kms north of the Palolem beach. I am proud to offer you a relaxing stay by the means of our Agonda beach huts, in the lap of nature.
Rama Resort wraps up the south end of Agonda Beach. The inviting rocks and the tranquil surroundings make it the ideal place to stretch your legs, unwind and feel yourself in the very bosom of Mother Nature. Famous for its exclusivity and privacy, it is an oasis of tranquillity for those out to seek some solace in a serene setting. The ethnic furnishings, local artefacts, and all amenities make every tent stylish and comfortable. The one-of-a-kind location, eclectic mix of exotic dishes, and excellent service are enough to have you wanting to return to us again and again to rediscover the pleasures of an unforgettable holiday.
Accomodation
The Resort offers much more than relaxed, leisurely stay under the open sky in a natural ambience. All the rooms here are spacious with a great view.
Rama Beach Resort at Agonda Beach Expansive and luxurious, each suite boasts of a large comfortable bed, with an en-suite bathroom, solar heated hot water and a guaranteed stunning view. Considered as a romantic getaway by almost all our guests, we assure you complete privacy.
Single Hut occupancy £900 - Double bed & Private Bathroom
Shared Hut occupancy £650 -Double bed + Single bed on request & Private Bathroom
What is included
7 x night range of accommodation of your choice in our beach front huts

2 x Daily Yoga, Pilates and Garuda classes

2 x scrumptious vegetarian meals daily: breakfast and lunch

1 boat excursion & dolphin watch

1X free day

Yoga mats & props provided

Introduction to the best restaurants and beaches in the proximity

Airport transfers
What is not included
Flight to and from Dabolim Airport Goa

Indian Visa

We'll be practising yoga and Pranayama during the morning and Pilates-Garuda or Creative Dance during the Sunset session daily.
Each day will start with a practice on the purpose built Yoga Studio,surrounded by palm trees and exotic nature. This will be followed by a lovely breakfast, which will include fresh fruit and vegetables from the gardens that surround the resort, where meals are normally taken.
Afternoons are yours, but are usually spent lazing around the beach or strolling to the nearby villages and beaches of Palolem and Patnam ,where you can buy local products, souvenirs and rest in the beach gorgeous cafés. Indulging massages, exploring the local market amongst other activities.
Agonda beach is perfect for walking, bird and Dolphin watching, photography or just planning the rest of your life!
Our second session of the day is practiced on the Beach of Agonda overlooking at the Sunset, followed by a ritual swim, before supper.
The holiday will include a beautiful excursions to nearby beaches, boat trip to secluded beaches, turtle beach and dolphin watching from fishing boats.
Our groups are relatively small, normally around 10-15 people, made up of singles, couples, friends, and families.Yes, you can come with someone who won't be practicing yoga, the price would be slightly less for that person, please contact me for details.The Holiday, offers two daily classes, Scaravelli yoga classes as a gentle wakening in the morning ,flow class from 8.00-9.00am – a fluid and Harmonic class with modifications to allow advanced people to challenge themselves and beginners to practice at their own pace. Pilates or Garuda class at sunset, the perfect way to end the day before dinner
Happy clients

" Laura's yoga is an innovative and creative mingling of yoga, pilates and dance. As a trained dancer the movements she teaches flow with the natural rhythms of the body. This free and freeing style allows for all types to enjoy. What amazes me is that you always leave her class feeling energised, flexible and relaxed no matter what level you are. She looks at who is in the class, what they need and creates from there. And she moves through the class to encourage and correct. Her positive feedback makes you want to better yourself.
She also talks through in detail every movement and thought processes as she demonstrates. I can recommend her classes and also her yoga retreats in Goa. Everything beautifully organised and executed. Paradise."
Sarah Thurstan,
Managing Director

Laura's Celebrate Life yoga holiday was a fantastic blend of gentle activity, relaxation, amazing food, fun and laughter. Laura has extensive training in yoga, Pilates and dance, and her classes are relaxed and easy to follow – even if like me, you have never been to one before. She worked with our differing abilities and sometimes-creaky bodies, adjusting poses and suggesting different movements for those of us with injuries or other limitations. As the week progressed, the long-standing ache in my left shoulder quietly subsided. Practising yoga outdoors engages all the senses. Morning sessions were held under the coconut trees to a soundtrack of noisy crows and the honking tuk-tuk of the watermelon seller. In the evening we took our mats to the beach and watched the sun sink into the horizon, before a final dip in the sea. And in between practice there was plenty of free time to do whatever we wanted – from dolphin-watching to buying ridiculously cheap souvenirs. I returned home feeling relaxed and healthy, having made wonderful friendships, and dreaming of returning next year.
Chris Morley,
Journalist

"Laura has been my Pilates teacher for over 5 years and it is no exaggeration to say that she has saved my body! Laura is a highly gifted, intuitive & skilled teacher with a wonderfully calm & loving approach. I trust Laura completely and thanks to her I have regained my upper body mobility following a bad injury. An hour with Laura is an hour of restorative joy".
Helen Varma,
Company director and Charity Fundraiser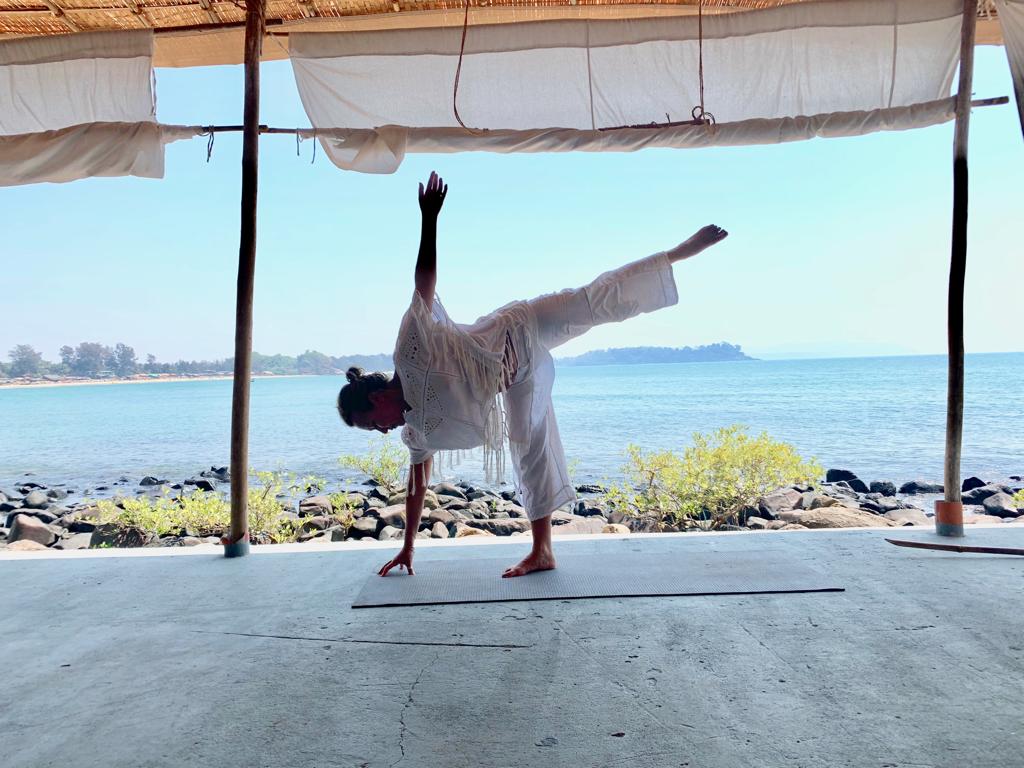 Food
Happily indulge in delicious, nutritious vegetarian food, so you can enjoy maximum energy and buzzing vitality throughout your stay. Using only the finest and freshest local produce, our amazing chef makes each day of the retreat a 'taste sensation.