FLOW INTO NATURE
InSpiral Escapes in Sicily
7th -14th June 2020
SOLD OUT 25th May-1st June 2019
Have you ever wanted to discover the magic of Sicily?
I could not be more thrilled to welcome you to my home of Sicily and to share with you this InSpiral Escape at a new, sublime location on the coast of Val di Noto, 7th -14th June 2020.
Reconnect with a simple, peaceful mode of being; slow down and find the natural rhythm of the body, flow into nature and lift the spirit!
Whether you're a novice or a regular yoga or Pilates practitioner, we promise you a light-hearted and transformational experience where you'll be invited to observe your physical, mental and spiritual states, quieten your busy mind and nurture all senses.
On this holiday, we will offer you a nurturing combination of InSpiral Flow classes (fusing elements of Yoga, Pilates and Garuda), the chance to relax on glorious quiet beaches reachable by bicycle (free from the venue) or on foot; you will have time to pamper yourself by the freshwater pool, use the jacuzzi & indoor SPA, and the opportunity to discover the stunning surroundings of Noto and the charm of Syracuse.
Every day, Silvano & Vera our Sicilian chefs will prepare delicious vegetarian recipes and traditional meals using seasonal and organic ingredients, locally sourced and produced.
Summer season in Sicily is one of the longest and warmest in the Bella Italia. Daily sunshine is guaranteed; we recommend you pack swimsuits, a sun lotion - between 30 and 50 factor - sunglasses and a hat. Bask in the sunshine, enjoy warm sunsets and indulge for a drink by the pool.
Discover the picturesque surrounding coast and countryside, enjoy walking and exploring the baroque town of Noto, one of the 47 cultural Italian UNESCO World Heritage Sites.
Enjoy the experience, make it yours, and embody the daily practices; at the end of the week, your mind and body will be filled with new energies whilst the adventures, food, and laughters shared with like-minded souls, will become unforgettable.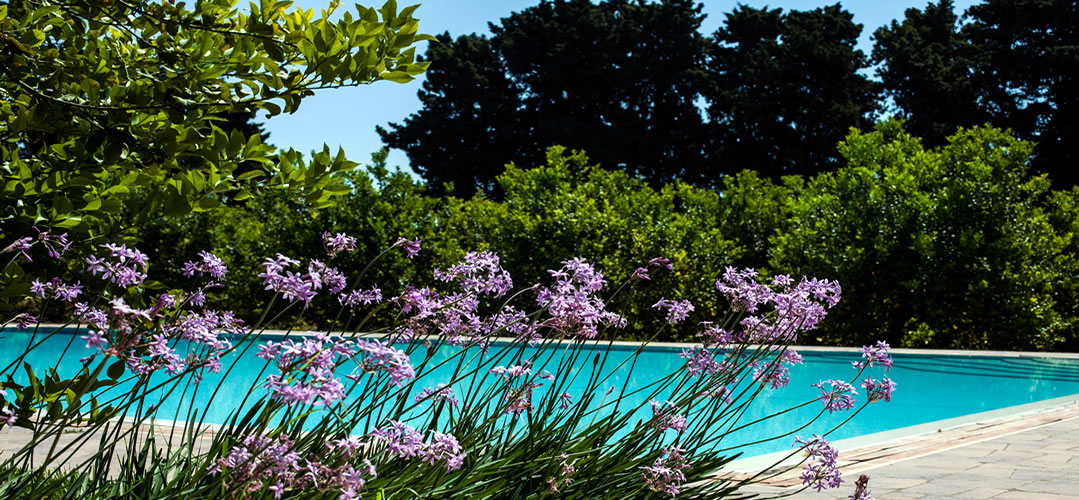 The Baglio
A year of research led us to discover the most exquisite retreat location on the south-east coast of Sicily. We would be thrilled to welcome you to our renovated Eighteenth Century Baglio,the name baglio is used to indicate a typical Sicilian rural summer residence, mostly owned by noble families.The Baglio is a classic Sicilian farmhouse, set in the fragrant grounds of a biologically cultivated citrus orchard yielding mainly a typical lemon called "LIMONE di SIRACUSA".Many lanes and paths run through the citrus orchard for relaxing walks or bicycle rides. Runners, be them expert or not, will also enjoy the available routes. Although surrounded by a classical countryside landscape, the Baglio is just a few hundred meters far from the sea.The eighteenth century manor is amongst the few such buildings in Eastern Sicily.
The Baglio has been finely restored recently, paying particular attention to the selection of materials such as typical stones and local ceramics.
Including a reception, freshwater pool, sun terrace, outdoor Jacuzzi, sauna, and private beaches a few minutes stroll away; our Baglio offers the perfect tranquil setting for your rest and relaxation.
The Surroundings
Discover the unspoilt, breath-taking scenery and baroque heritage of Val di Noto, one of the 47 cultural Italian UNESCO World Heritage Sites, situated in southeastern Sicily.
This side of the coast, offers an incredible and unique mixture of unspoiled nature and wild beaches, alongside history, architectural and gastronomic delights. Mount Etna, one the most active volcanoes in the world, often lights up the dark quite night and surrounding skies awakening your senses with its natural Magia.
Inclusions
7 nights accommodation at a 18th century Baglio, typical Sicilian farm, few minutes walks from the beach, with Jacuzzi, freshwater infinite pool and outdoor Jacuzzi.
2 InSpiral Flow class a day, morning and sunset. There will be 1 day off, to use for excursions [Thursday].
Delicious vegetarian recipes and traditional meals using seasonal and organic ingredients, locally sourced and produced.
Plenty of free time to relax, integrate and explore the surroundings.
Local insight into the best restaurants and beaches in the proximity
Yoga mats, props and equipment; the farm offers free bicycles for all guests.
Optionals
Private tuition with Laura.
SPA treatments, including sauna, Turkish bath and massages; charges start from €15/treatment
Excursions to the surrounding areas and historical sites.
We recommend: Etna walks or Etna and Taormina. The Baroque tour, including Syracuse, Ortigia and Noto. The Montalbano or The Temple Valley tour. Not to-be-missed the local winery tour & cooking class at Planeta.
Please enquire with us, we will be happy to arrange tours for groups or individuals and transfers.
Accommodation | Prices
All rooms & apartments at the Baglio are uniquely charming and come equipped with air conditioning, TV, LCD, safe, mini-bar and free WIFI.
Baglio property features 4 bedrooms [single and double use] and 5 apartments on split leveland one with with fully equipped kitchenette.
3 Double bedrooms with private bathroom: £850pp shared accommodation and £1,600 single occupancy.
3 apartments on 2-split levels sharing 1 bathroom: £950pp per level or £1,800 for both levels.The Rooms are with intermediate floor: one double bed on the mezzanine and two single beds or double on the ground floor, shared bathroom.
1loft apartment with kitchen and corner bath tub Jacuzzi: £1.100pp per level or £2.000 for both levels.
We are happy to arrange the rooms to accommodate up to 4 people at a discounted cost. Please contact us for more information.
Inspiral Flow classes
My InSpiral Flow classes are for everyone who would like to find more strength, confidence, fluidity and flow in both body and mind. All are welcome. It doesn't matter if you have never done Yoga or Pilates before or if you have been practising for years.
My unique approach is inspired by the body's innate spiral movements.
Each morning we will practice a dynamic yoga flow class on the beautiful front lawn. The focus will be on improving flexibility and cultivating a sense of ease and well-being.
At sunset we will come together for a core-focused Pilates or Garuda practice to cultivate inner and outer strength and functionality.
Both are infused with my gentle and poetic InSpiral style, which challenges and invigorates without the stress of forcing, fixing or conquering the body.
Whether a slow flow or dynamic class, the journey will invite you to enter into a conversation with your inner self: your body, your mind and your emotions. It is is geared towards the individual who wants to expand their understanding of practice as a means of optimising their well-being.
Happy Guests
From the second we arrived in the idyllic Sicilian setting and entered the dreamy homely accommodation, I was in my element. Everything from having a stroll with my bicycle to the private beach to a hot tub under the stars and attending each yoga class felt like a treat. I would recommend everyone to do this retreat with Laura as much as they possibly can.
Alison Furey- Doctor
Laura is an amazing and poetic teacher. Her classes are energetic and passionate; she blends her 30 years experience as a choreographer and dancer with her deep knowledge of yoga and Pilates! Her classes at sunset on the beach are awesome! Thanks for a fabulous truly Sicilian Experience!
Antonella Fabiani- Photographer
I have experienced the yoga of Laura in Sicily and loved it. Very fluid,very shakti."
David Cassieu Ortigia - International Yoga Festival Director
Grazie Laura for bringing us all together for your wonderful retreat Sicily was a revelation all was stunning i feel a little" sicilianised
Maria Mackie-Yogi & Teacher
Flights
The closest airport is Catania, served by Alitalia, BA, Norwegian Airline, Easy Jet; alternatively the airport of Comiso is served by Ryan Air.
Please note that airport transfers are not included in the retreat package, but we will be more than happy to help you with car hire or arrange a pick-up at the airport.